Oleg "Fiend" Gusarov is a minor character appearing in S.T.A.L.K.E.R.: Lost Alpha and S.T.A.L.K.E.R.: Shadow of Chernobyl.
"
Oleg "the Fiend" Gusarov. A former "Black Beret," served in the Belotserkovskaya Spetsnaz brigade. Served multiple tours, became a master sergeant. A sniper and a bomb technician. A loner at heart, never ventures into the Zone in a group, preferring to act alone. He was offered to join the clans numerous times, but always refused.
- PDA contact biography
"
Overview
Located at the Pig Farm in the south-west corner of Dark Valley.
Gives the player information during the main mission line on how to enter the Bandit Base.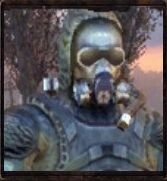 Appearances
S.T.A.L.K.E.R.: Lost Alpha:
The player must meet him in order to infiltrate the Bandit Base for the main mission line.
Missions given in Lost Alpha:
S.T.A.L.K.E.R.: Shadow of Chernobyl:
Plays a completely different role and simply wanders around in numerous maps in the Zone.
Notes
Despite the resumé and a tendency to wander around the Zone in S.T.A.L.K.E.R.: Shadow of Chernobyl, in the Lost Alpha this NPC stays firmly rooted to one spot in the Pig Farm in Dark Valley.
Carries the unique weapon Sniper Obokan.

Killing him to acquire it would be somewhat idiotic, and lugging a Fuel barrel from the Bar to place outside behind him might work, but is tedious and will probably get the (unrepairable) weapon damaged in the process.
It is possible to draw helicopter fire onto his position later on, but this is also difficult and more likely to result in the player getting shot anyway.
His only current purpose (patch 1.3003) is to brief the player regarding the infiltration of the Bandit Base and the Monolith Base in the area.
Trivia
Gallery