| | |
| --- | --- |
| | This article or section could use some images. |
Father Diodor is a character who appears in S.T.A.L.K.E.R.: Lost Alpha.
"
Took part in the war in Afghanistan. Formerlt an atheist, but after surviving a Mujahideen ambush, he emerged a religious man. After the war in Afghanistan, he emigrated to Poland where he enrolled into a theological seminary. Having graduated from the seminary, he preached at the Catholic church in Lvov. After the explosion at the Chernobyl NPP, he volunteered to help the victims. In the last few years he has been preaching in the Zone
- PDA contact biography
"
Overview
Father Diodor may be first located in the basement of the Loner Village in Yantar, where he is to all intents 'trapped'.
The player may open this door, after which this NPC enters into 'patrol mode' and wanders extensively over south-eastern Yantar.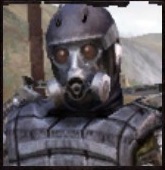 Notes
For best results and longevity, try to leave him behind the door.
His position in the door presents a difficulty (see gallery)
Most of the door area shows the option, 'Press (F) to open door'. Do not take this option if you intend to use Father Diodor later in the game.
If you aim at the metal portion of the Chaser shotgun he carriers, the 'TALK' (F) option becomes available.
He can be contacted in the usual manner but care should be exercised or he will be caught in a Blowout rendering his services unavailable.
He has a 100000 Ru bankroll and provides reasonably priced repairs and upgrades.
The basement is not a blowout shelter, but does seem to preserve him for the first couple of storms.
The character even has the unique Combat Chaser as seen in the Base Game, the only opportunity for the player to gain this weapon is immediately after a blowout before his corpse is removed from the board.
Father Diodor - Weapons Cache - Was on the way to visit Father Diodor in Yantar.  Found him egressing from his assault on the walled Military compound.  He died by the main gate to the area. Here's a list of what he was carrying (combined weight 175Kg): 6 Obokans, 2 SGI 5k, 5 IL 86, 11 TRs 301, 8 AKm-74/2, 11 AKm-74/2u, 3 Viper 5, 24 assorted handguns.
The player will not need to keep him behind the door as of v.(1.4005) because Father Diodor is immortal and cannot be killed.
Trivia
Gallery
Community content is available under
CC-BY-SA
unless otherwise noted.