Chezz the Obsessed is a character appearing in S.T.A.L.K.E.R.: Lost Alpha.
"
Chezz is a veteran stalker who has spent years in the zone. His time there has somewhat affected his social behavior, appearing quite strange to most others he meets. A major oddity of Chezz is how obsessed he is with the one and only weapon he carries named "The Big Boy".

Rumor Has it, the very first day Chezz arrived to the zone a Whirligig Anomaly randomly blasted and suddenly the "Big Boy" fell from the sky strait in-front of him. Ever since, Chezz claims this weapon to be a direct gift from the zone and believes he is alive to serve a great purpose. Furthermore, he believes his weapon to be an Artifact. Could this be true or just another crazy idea of his?
- In-game Biography

"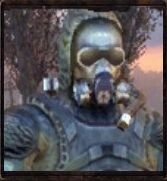 Overview
Notes
Trivia
Despite the biography stating he is a veteran, his profile states otherwise.
On top of this, he does not carry a "unique" weapon either but rather a normal Black Kite handgun.
Gallery